U.S. Marine Sgt. Maj. Joy Maria Kitashima will return to Okinawa next year, the Japanese island where her military police career began. But this time she's going to be the top enlisted advisor at III Marine Expeditionary Force.
On Nov. 22, Kitashima, 46, was selected to join the command of Lt. Gen. James W. Bierman Jr. When she takes her post in July of 2023, she'll become the first female force-level sergeant major in the history of the Marine Corps.
In her 26-year career, she has seen stints in Afghanistan, Iraq, and Haiti, but the Bloomington, Indiana, native never considered enlisting until a recruiter approached her while she was studying law enforcement in college.
"Sometimes you don't know the opportunity right in front of your face until you take advantage of it. And that was my case," Kitashima told Coffee or Die Magazine.
After graduating from Vincennes University with an associate of science degree in law enforcement in 1996, she began a very different sort of education at Marine Corps Recruit Depot Parris Island and military police school at Alabama's Fort McClellan.
The Corps cut her orders to 1st Marine Aircraft Wing, a one-year tour on Okinawa. After that, she served as an MP at Marine Corps Air Station Cherry Point in North Carolina and as a Marine combat instructor at the School of Infantry East.
She only intended to stay in the Corps until her initial contract ended, but she told Coffee or Die doors kept opening for her, and she found more opportunities to grow as a noncommissioned officer, so she stayed.
Today, she envies the "young brains" who go into the service knowing they'll make a career of it, "because I didn't know that."
"I didn't know it ever," she said.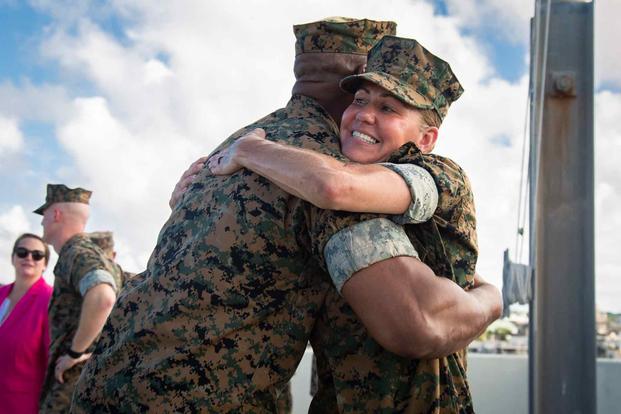 She went to Marine Combat Training because her master gunnery sergeant said the school needed "females who can PT." He asked if she was interested, and she shot back, "Absolutely."
Kitashima admits at the time she didn't know the difference between an M203 grenade launcher and an M136 AT4 rocket launcher, but she was "all in."
She reenlisted and went to Camp Geiger as a corporal.
"That's kind of been the theme throughout the career," she said. "Just because I don't know what I'm getting into, it doesn't mean I'm going to be too afraid to try. And also, they're called 'orders.'"
Learning and teaching about combat also changed her.
Kitashima no longer saw herself as primarily a law enforcement officer. She realized it was more important to be a Marine.
"That was every bit of the challenge and everything I ever wanted out of being a Marine, and I had that," she said.
At Camp Geiger, she served under leaders who believed in her "way more than I ever did." They kept challenging her to be more, to do more, to lead Marines.
And after MCT, other commanders and senior enlisted Marines did the same thing.
"Nobody's looked at me like 'Well, you should be doing this, and doing this, because that's what I did.' They didn't look at me like that. They looked at me like, 'Hey, you're a leader, what do you want to do?' And then they allowed me to shape my style based on guidance and mentoring because we're always being mentored."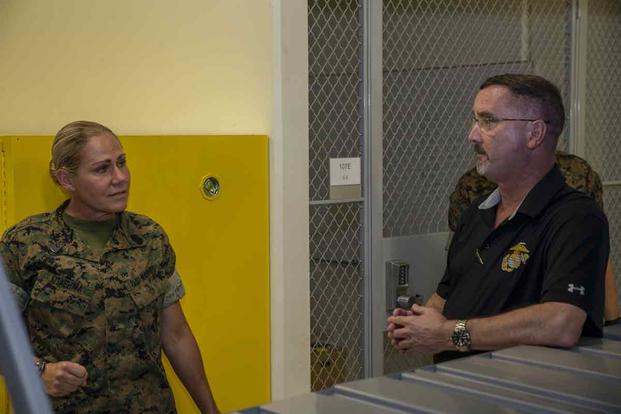 She took those lessons all the way up the enlisted ladder.
In late 2016, she was named the 5th Naval Gunfire Liaison Company sergeant major.
Less than two years later, she got orders to become II MEF's Information Group's top enlisted Marine. She assumed the duties of Marine Corps Installations Pacific sergeant major in mid-2020. Two years later, she took the same post at 2nd Marine Aircraft Wing in North Carolina.
Kitashima's awards include the Legion of Merit Medal, four Meritorious Service Medals, and three Navy and Marine Corps Commendation Medals.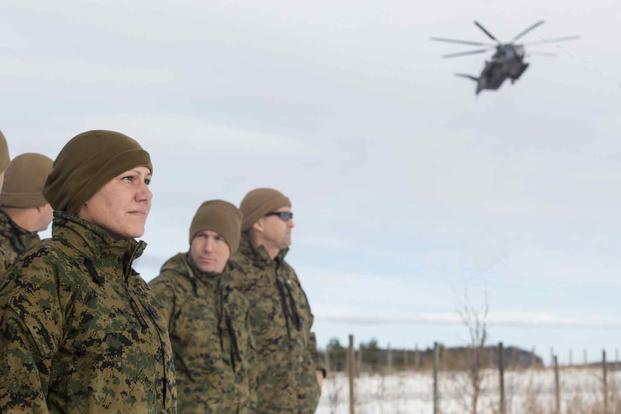 Next year, she'll be joined at Camp Courtney by her husband, Mark, a retired master gunnery sergeant, and their 11-year-old daughter, Caitlynn.
"I hope I never do think that I have arrived, because if learning isn't occurring every day — whether it be from the young Marines in my office, who are teaching me slang that I really don't need to know, to mentors who have been in a lot longer than I — it's the learning piece," she told Coffee or Die. "I hope I never lose that."
Kitashima "stopped putting a number" on her time in service a long time go. Now, she just hopes to keep being a Marine until she feels she's no longer serving a higher purpose.
"Every day, as long as I wake up and I have a reason to go in to work — that will hopefully benefit the Marines and sailors and my family — then I'll continue serving. Maybe III MEF, maybe that's it, and it will have been an amazing ride. Life happens. I'm going to play it by ear. But I won't quit, and I'll give it everything I've got every day," she said.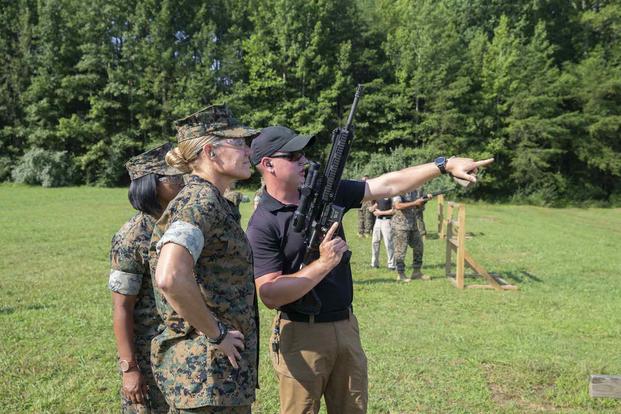 No woman has become the sergeant major of the Marine Corps, but that glass ceiling was shattered in the Air Force on Aug. 14.
That's when Chief Master Sgt. of the Air Force JoAnne S. Bass became the service's 19th chief master sergeant.
And like Kitashima, she never thought she'd keep serving beyond her first contract. But she did.
"Throughout my Air Force career, my intentions have always been to follow the advice my mother gave me: do your job and do it well," Bass told Coffee or Die Magazine in a prepared statement. "Any challenges I faced, or obstacles I had to overcome, were framed with that intent. The harder I worked, the more I realized that success comes to those who are often too busy to look for it…and ultimately, it's one's character and competency that matters most. I wish all the best to Sgt. Maj. Kitashima on this incredible honor she has earned."
Noelle Wiehe is an award-winning journalist from Cincinnati, Ohio, who came to Coffee or Die Magazine following a fellowship from Military Veterans in Journalism. She worked as a civilian journalist covering several units, including the 75th Ranger Regiment, before she joined the military herself and served as a public affairs specialist attached to the 3rd Infantry Division.
Read the original article on Coffee or Die Magazine. Follow Coffee or Die on Instagram.
Show Full Article
© Copyright 2022 Coffee or Die Magazine. All rights reserved. This material may not be published, broadcast, rewritten or redistributed.
Tags:
1st
Corps
Female
Force
Joy
Kitashima
Major
Maria
Marine
Marine Corps
Marine Corps News
Meet
Military
Sergeant
Working Warriors